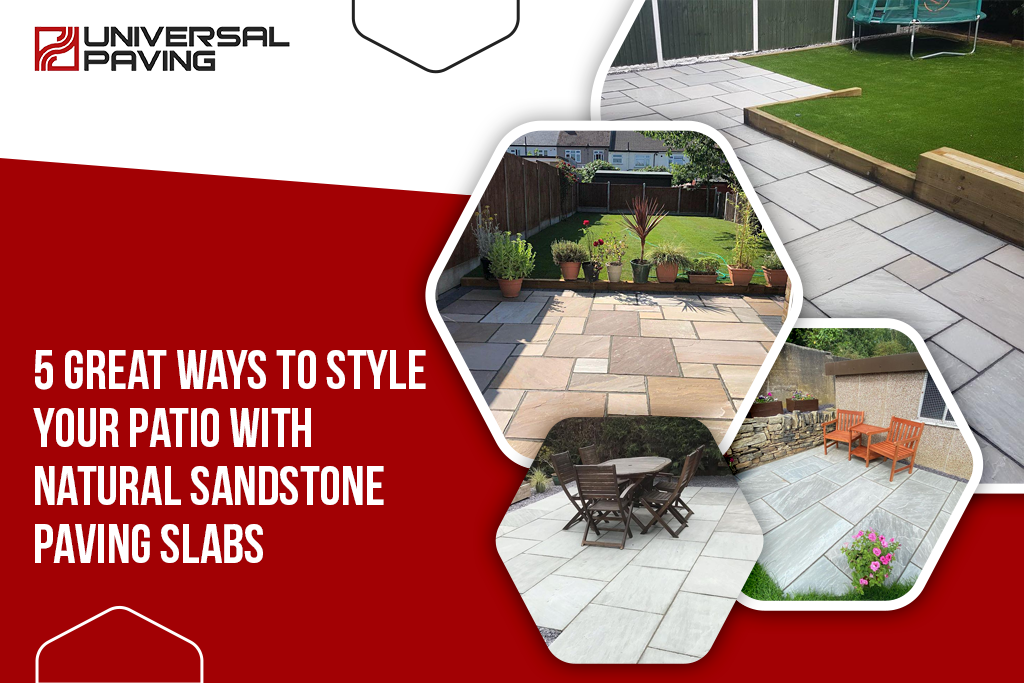 5 Great Ways to Style Your Patio With Natural Sandstone Paving Slabs
Many people have paving problems as a result of harsh weather, colour fading, flaking, layering, and staining. No matter how expensive your paving material is, if you have not taken certain precautions from the time you choose a paving material to the time it is installed.
If you are looking for a one-of-a-kind and wonderful pattern or ways to style your patio with natural sandstone paving slabs, this article will guide you through the entire process, from selecting the right paving to installing it in a great way.
Why Do We Require To Style Outdoor Pavement?
Outdoor space, such as a patio, garden area, walkway and driveway, is as important as your home interior. It offers the first impression about your status, choice and class. Creating a breathtaking outdoor space increases the worth of your house.
Pavement improves the functionality and appeal of our outdoor space. Nowadays, you can find enormous options in pavement material in the market. But choosing the right material is of utmost importance to style outdoor pavement for an everlasting impression and longevity of the place. Indian natural sandstone paving slabs come with great advantages with respect to durability, appeal and maintenance.
Kandla grey paving slabs, Raj green natural sandstone paving slabs, Camel dust, Fossil Mint and rainbow sandstone are examples of Indian natural sandstone paving slabs.
Also, Read: Benefits of Drainage System in a Paving Projects
Advantages of Natural Sandstone Paving Slabs to Style Your Patio
Easy to Install
Natural sandstone paving slabs are easy to install. The cutting and laying process is very simple with these slabs. Additionally, these slabs suit every ground type and can be installed on grassy, sandy and stony ground.
Impressive Colour Pattern
Natural sandstone slabs have attractive colour patterns which are natural. These possess veins that provide a unique look to your outdoor space. You can get amazing tones from subtle to dark in these paving slabs.
Withstand Adverse Weather Conditions
Due to their natural formation, natural sandstone slabs are extremely durable. These can bear heavy pressure and weather impact also. With time shades of natural sandstone can be faded, but it results in a more elegant, smooth and glossy surface which makes them an ideal style choice for your patio.
Safe for Outdoor Activities
Natural sandstone slabs, even after polishing and sealing, restore their non-slippery property. These are safe to play and walk. Furthermore, it is easier to clean and maintain these slabs due to their non-porous texture.
5 Ways to Style Your Outdoor Space With Natural Sandstone Paving Slabs
As Indian natural sandstone slabs are readily available in a wonderful assortment of shades, these are ideal for creating an impressive outdoor space. Below are the exciting ways to transform and style your patio, garden area and driveway using natural sandstone slabs.
1. Creating That Classy Look
Natural sandstone slabs have a beautiful vein pattern with subtle grey tones. Paving slabs Kandla grey in riven form add a special touch to your patio area and garden walkway. It blends in perfectly with your vibrant surroundings and complements every outdoor element. Kandla grey sandstone, a step above the natural foliage, offers a mesmerizing appeal, along with rustic wooden pillars and wooden furniture.
2. Vintage Style
Raj Green sandstone slabs come in a variety of lovely colours, including brown, green, and grey, with a rustic tinge. The combination of all the shades gives your outdoor space a vintage feel. Rain not only cleans the dust, but it also radiates these shades in a natural way, restoring its anti-skid property. Hand-cut Raj Green sandstone slabs offer a more rustic look to the surface.
3. Restore Uniqueness
The awe-inspiring appeal of camel dust natural sandstone slabs extends beyond their rarity. A beautiful pattern on subtle light shades makes your patio livelier and more eye-catching. These slabs are so versatile that they can also be used indoors. Vibrant sandstone slabs complement your garden and colourful flowers, creating a space worth admiring.
4. Play With Shapes and Pattern
Give your outdoor space your personal touch by lying black natural sandstone slabs. Create a beautiful outdoor space with different shapes (square, rectangular) and patterns (circular, cutting edge). A border of multicoloured pebbles improves the aesthetic of your patio area.
5. Mix and Match the Pattern
Mix and match patterns of Kandla grey, Raj green and fossil mint form a beautiful outdoor space. Red or border around Kandla grey paving slabs look great. You can lay these paving slabs in layers or steps to create an attractive place.
Redesigning and styling a patio, a garden area, or a driveway requires a significant investment of time, effort, and money. When selecting natural sandstone paving slabs to style a patio, it is critical to consider quality, colours, size, shape, and patterns. Universal Paving offers the highest quality of natural sandstone paving slabs at affordable prices and the choicest kind to create a dream space for your entire premises.
Also, Read: Why Natural Stone Are the Best Paving Slabs?