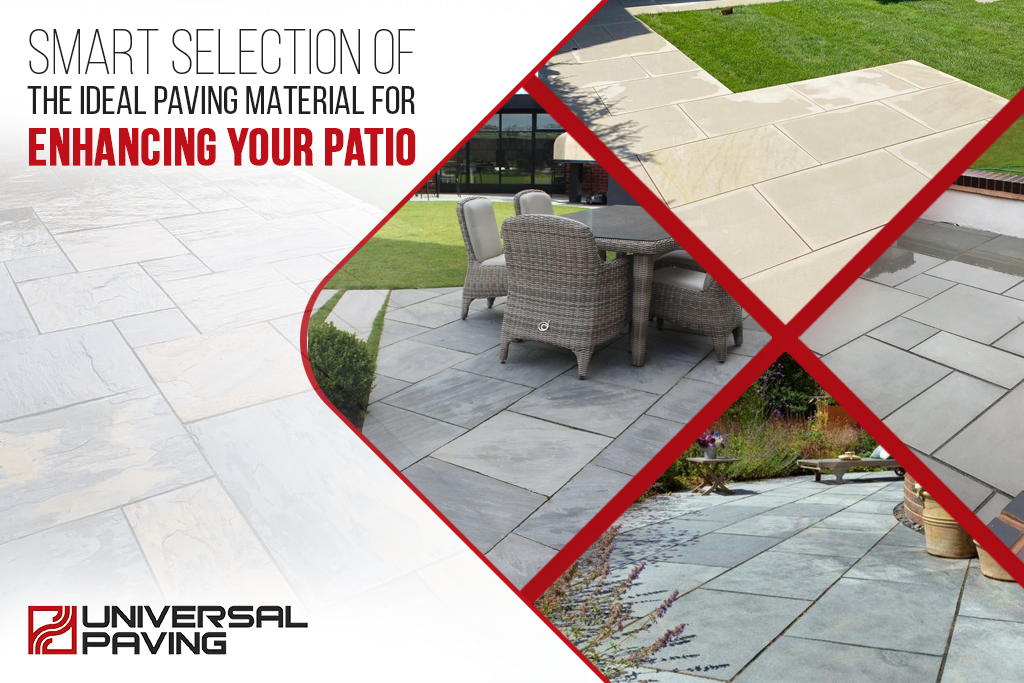 Smart Selection of the Ideal Paving Material for Enhancing Your Patio and Walkways
When enhancing your outdoor space, selecting the ideal paving materials is key. Various paving materials are available, each with its benefits and drawbacks. Concrete, brick and pavers, stone, artificial grass, and turf are just some examples that can be used for patios or walkways. When choosing which material will work best for you, there are several factors to consider, such as climate conditions in your area; durability and longevity; cost; design considerations; maintenance requirements; etc. The right choice depends on individual preferences and budget limitations. Universal Paving is a paving supplier in the UK that provides quality block paving supplies that can help make this decision easier.
Considerations for Choosing the Right Paving Material
Climate Considerations: Climate considerations are among the most important factors when selecting the right paving material. Different materials perform differently in different climates and environments. Concrete and brick pavers, for example, may not be suitable for areas with extreme temperatures or high levels of rainfall because they can become slippery over time. 
Durability and Longevity: The stone is highly durable and stands up well to inclement weather conditions such as intense heat or cold. Artificial grass and turf are other options if you're looking for something low-maintenance that can withstand all weather conditions without needing frequent replacement or repair.
Cost: Cost is also important in choosing the ideal paving material. Depending on your budget limitations, you may need to opt for cheaper options like concrete or brick pavers instead of more expensive materials like natural stone or artificial turf. However, remember that these less expensive materials may require more maintenance over time due to their susceptibility to wear and tear from harsh weather conditions and foot traffic.
Design Considerations: Design considerations should also be considered when selecting a paving material since this will determine how attractive your outdoor space looks after installation. For instance, certain textures (e.g., smooth versus rough) provide different aesthetics depending on what kind of look you're going for. In contrast, colors can add visual interest. Still, they might fade over time if exposed to direct sunlight regularly unless properly sealed against UV damage with a quality sealant product designed for outdoor use on hard surfaces such as driveways and patios made of concrete or brick pavers, etc.
Also, Read - Ways to Style Your Patio With Natural Sandstone
Common Paving Materials and Their Characteristics
Concrete: Concrete is one of the most popular paving materials due to its affordability and durability. It is also relatively easy to install, making it a great option for DIY enthusiasts. Concrete can be colored or stained to create various looks, but remember that it will require regular maintenance, such as resealing every few years, to protect against staining and weathering. Additionally, concrete may crack over time due to the natural shifting of soil beneath it, so proper installation techniques should be followed when laying down this material.
Brick and Pavers: Brick and pavers are an increasingly popular choice for outdoor paving projects because they offer superior aesthetics while being cost-effective compared with other materials like stone or artificial turf. They come in various colors, shapes, and sizes, making them extremely versatile. They allow you to mix and match designs for unique patterns or create uniformity throughout your space. Brick pavers typically need less maintenance than concrete since they're less prone to cracking, but they do require occasional cleaning with special cleaners designed specifically for brick surfaces; otherwise, moss or algae could form on the surface if left unchecked, which would diminish their appearance over time.
Stone: Stone is another attractive option that offers long-lasting appeal without needing frequent replacement or repairs like other materials (e.g., concrete). Natural stone has been used in many cultures around the world for centuries - not only does it look beautiful, but it's also incredibly strong and durable, making it ideal for high-traffic areas where heavy footfall can cause wear and tear on lesser materials like asphalt or wood decking, etc. However, installing stone can sometimes be quite expensive, depending on your type, so factor this into your budget before committing!
Artificial Grass and Turf: Artificial grass and turf are gaining popularity lately due to their low-maintenance requirements – no mowing is necessary! Artificial grass has wide varieties, including realistic-looking blades that mimic real grass.
Also, Read - Most Popular Types of Natural Indian Sandstone Slabs
Maintenance
Regular maintenance is important to ensure your ideal paving material stays in good condition for years. Cleaning is the most basic form of upkeep, and this usually involves simply hosing down the surface with water or a mild detergent if necessary. This will help eliminate any dirt or debris accumulated over time, which can both be unsightly and potentially cause damage to the material itself if left unchecked. Repairing cracked or damaged pavers should also be done regularly. Neglecting these issues could lead to more serious problems, such as sinking or shifting in the ground beneath them, depending on what material they're made of (e.g., concrete). Finally, it's also recommended that new materials are protected with sealants so they remain resistant to staining and weathering due to UV exposure; this will ensure maximum durability over time.
Conclusion
In conclusion, there are a variety of different paving materials available that can be used to enhance your outdoor space. Each type has its advantages and disadvantages, so it's important to consider factors such as climate conditions in your area; durability and longevity; cost; design considerations; maintenance requirements; etc., when choosing which ideal paving material is right for you. Universal Paving block paving supplies provide quality options to help with this decision-making process. Whether you choose concrete, brick pavers or stone, artificial grass or turf – regular maintenance will keep them looking great for years to come!