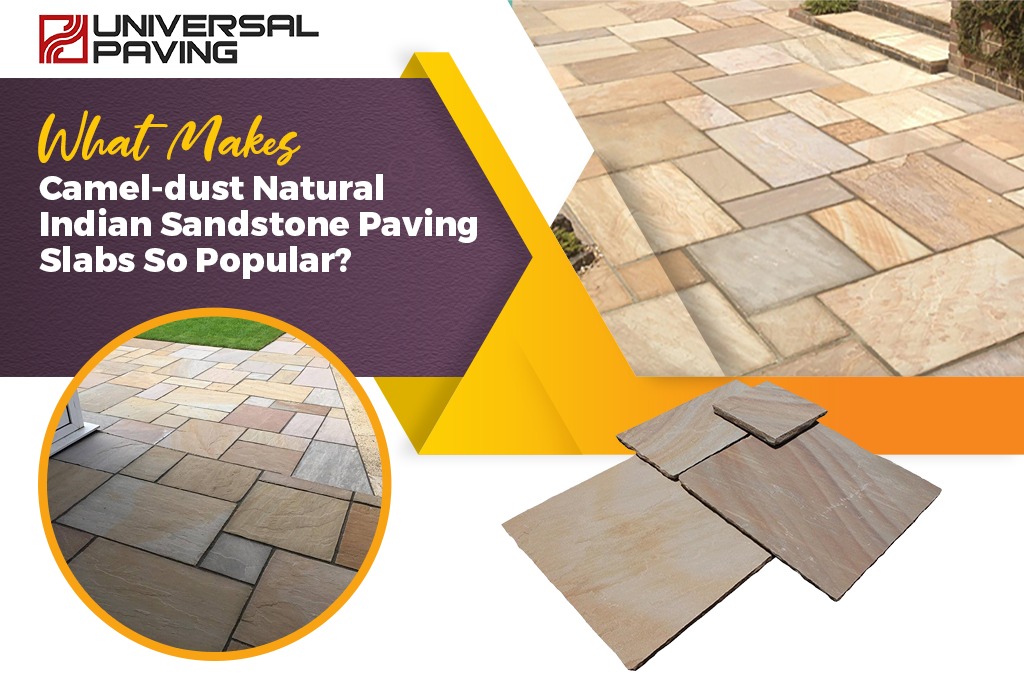 What Makes Camel-dust Natural Indian Sandstone Paving Slabs So Popular?
Outdoor slabs are prone to molds, cracking, layering, shade fading, and a slippery texture. Exposure to harsh weather conditions such as extreme heat, cold, rain, and chemical spills ruin the appearance and function of your paving slabs. Paving slabs of poor quality cannot withstand these conditions. As a result, they become damaged and discolored in a brief period of time.
Natural Indian sandstone slabs are unrivaled in strength, and resistant to harsh weather conditions. These are available in diversified shades, thicknesses, sizes and textures to adore your outdoor space. Indian sandstone paving supplier UK, Universal Paving is a leading company that provides 100% authentic natural Indian sandstone paving slabs in a variety of sizes and shades.
In this article, we will go over the significant properties that make the camel dust natural sandstone paving slabs so popular.
What Are Natural Indian Sandstone Paving Slabs?
Origin:
Natural Indian sandstone is a beautiful naturally occurring stone with veins and subtle shades. It is formed from sedimentary rocks under extreme pressure over many years. Natural Indian sandstone is a very hard material that is ideal for outdoor use.
Characteristics:
Natural Indian sandstone is an extremely hard material.
It has a unique and beautiful appeal due to natural venation and shades.
It is scratch-proof and cannot be chipped easily.
It has a non-slippery texture.
Polished natural sandstone is glossy and appealing.
It is a highly durable material that makes it ideal for outdoor use.
Most Popular Types of Natural Indian Sandstone Slabs
Natural Indian sandstone slabs are available in different types based on your requirement. All these have advantages over other materials due to unique appeal, texture and extreme durability.
1. Kandla Grey Sandstone Paving Slabs
These natural sandstone slabs are available in natural grey tones. Universal Paving, a well-known paving supplier in the UK, distributes Kandla grey sandstone slabs in hones, sawn, brushed, and sandblasted surfaces. Kandla grey sandstone slabs are an excellent choice for creating a clean, pleasant, and attractive patio and garden space.
2. Raj Green Sandstone Paving Slabs
These sandstone slabs have a greenish, brown, earthy and purplish appearance. Raj Green sandstone slabs have different shades that create a unique and vibrant outdoor space. This natural sandstone is available in desirable sizes and textures.
3. Camel Dust Natural Sandstone Paving Slabs
Camel dust is a very hard natural Indian sandstone slab. Because of its naturally appealing shades such as dusky yellow, sandy tone, pinkish tinge, and greenish and silvery touch, it creates a relaxing and wonderful outdoor space. All of these colors occur naturally and cannot be faded away, even in direct sunlight or rain. It is slip resistant and suitable for use both indoors and outdoors.
4. Fossil Mint Sandstone Slabs
Another type of long-lasting natural sandstone slab is fossil mint sandstone. It is available in yellow, cream, pista, and grey buff. These shades will look great on your walkways, patio, and garden area.
Why Should You Go With Natural Indian Sandstone Slabs?
Natural Indian sandstone slabs provide a classic touch with a modern and clean appearance. These are the most popular materials for remodeling your outdoor space, whether it is a patio, garden area, driveway, or walkway. The benefits listed below make these slabs a popular choice.
· Hardwearing
Natural sandstone slabs due to their natural origin are imperishable. These slabs can easily withstand drastic weather conditions and extreme pressure. Natural sandstone driveways do not deteriorate over time.
· Appealing Shades
Natural sandstone slabs have unique natural shades with impressive texture and venation. You can explore a range of attractive colors to give your outdoor space a stunning and lively look. these natural shades are not affected by rain, spill, sunlight and dust.
· Easy Maintenance
The surface of natural sandstone slabs is smooth and easy to clean and maintain. Surfaces become shiny and pore-free after polishing and sealing, still, they restore their non-slippery texture. Surface dirt can be removed with a mild detergent and water. When natural sandstone paving slabs are installed in your outdoor space, they retain their shine, shades, and smoothness for a longer period of time.
· Affordable
Natural Indian sandstone slabs occur naturally and in abundance, making them very accessible and affordable. If you live in the UK, you can still purchase natural Indian sandstone slabs from paving suppliers in the UK.
Summary
Choose natural Indian sandstone paving material if you want to give your outdoor space an unrivaled look and feel. It is long-lasting, inexpensive, and comes in a variety of colors and textures. Visit Universal Paving to see their selection of paving slabs for creating a spectacular outdoor space.