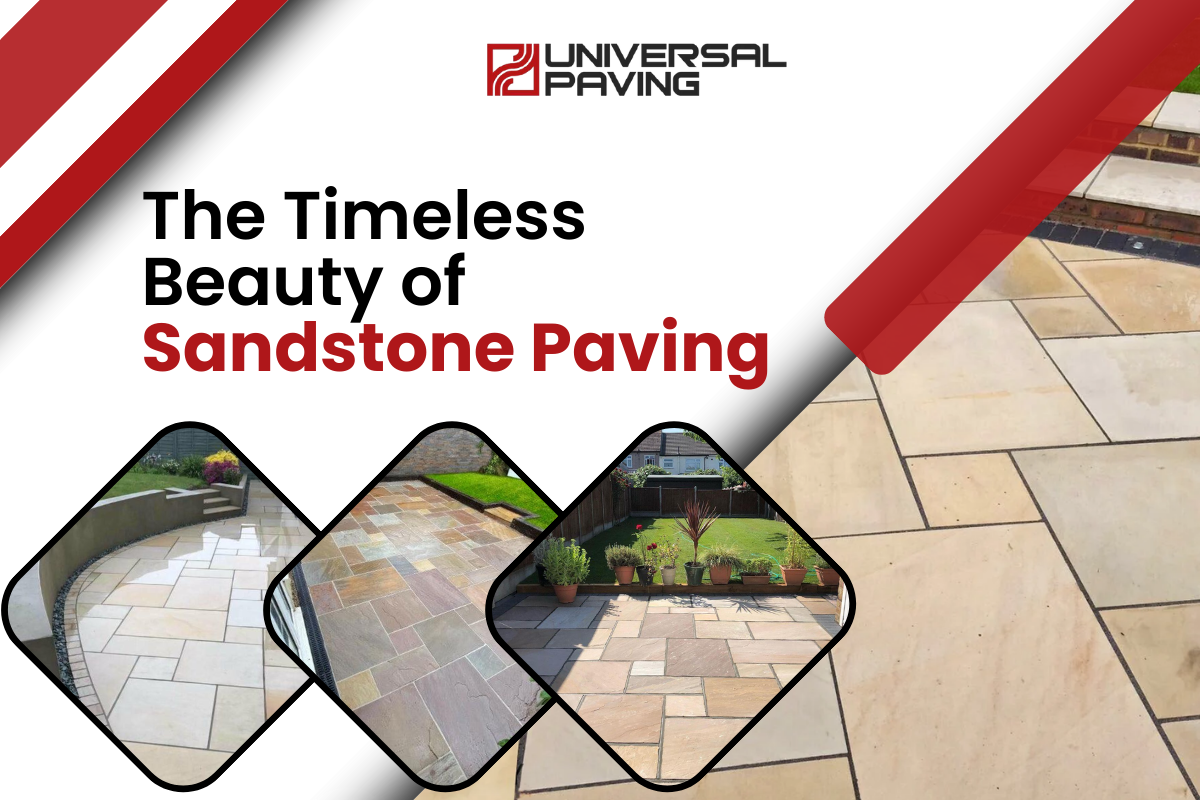 The Timeless Beauty of Sandstone Paving
Sandstone paving is a classic and timeless option for outdoor spaces that have been loved for centuries. Despite many new and innovative opportunities in today's market, sandstone paving remains famous in private and public areas worldwide. This natural stone exudes an unmatched natural beauty that is difficult to match with other materials. 
In this blog post, we will explore why sandstone paving continues to be a preferred choice of consumers, despite having so many alternatives available to them.
Types of Sandstone Paving Slabs
Some of the most popular sandstone paving include;
Kandla Grey Indian Sandstone Paving Slabs
Kandla Grey offers a versatile choice for creating a modern or traditional patio, with options of a naturally riven or smooth, sawn and honed surface.
Complemented by contrasting tones, this sandstone paving can enhance the visual appeal of your outdoor space. 
Sawn Mint Sandstone Paving
Sawn Mint Sandstone boasts an attractive blend of buff, yellow, and beige hues that blend seamlessly into modern garden designs. This sandstone's versatile colour palette also makes it an excellent choice for enhancing the look of your planting areas.
Raj Green Sandstone Paving
With a natural surface and a mix of supple, earthy tones including green and brown, complemented by occasional plum and grey hues, Raj Green Sandstone is an exquisite addition to any outdoor space. 
Sandstone Paving Slab: Colours and Textures
Sandstone is a stunning natural stone that comes in a wide range of colours. From pale creams and sandy beiges to rich buff browns and dusky greys, sandstone paving slabs showcase the hues of the rock layers they comprise. 
However, what sets sandstone apart is the unique variations in colour and the darker veins that add character and charm to each slab. These variations are a natural feature of sandstone, making each piece unique. When the sun shines, the colours may seem more subtle, but after rain, the vibrant and deep colours of the sandstone come to life. 
Whether you opt for standard, mid-range, or premium sandstone, the beauty of the stone is undeniable, with tiny quartz crystals giving it a delicate shimmer. It's no wonder that even the Maharajahs chose sandstone to build their palaces and gardens. In rare cases, fossils may even be visible, showcasing the millions of years of history that went into creating this beautiful stone.
Why Should you Buy Sandstone Paving Slabs?
It's Durable
All sandstone including Kandla Grey Indian Sandstone paving slabs is highly durable and long-lasting compared to most artificial alternatives. While it may not be as hard as granite or marble, it is still strong enough to withstand the test of time if maintained properly. Interestingly, it is not as hard as some other natural stone options, making it more versatile, as it can be easily cut and shaped into various exciting forms and patterns.
It's Replaceable
Sandstone is a type of natural stone that displays a diverse range of tones and textures, each unique paving slab. One of the advantages of using sandstone for your outdoor paving needs is that individual stones can be easily removed and replaced over time without worrying about matching issues. This feature is particularly valuable for homeowners who want to maintain the integrity and appearance of their outdoor spaces.
It's Environmentally-friendly
Compared to the production process of man-made paving materials, quarrying natural stones like sandstone is less harmful to the environment. Moreover, sandstone paving slabs are highly durable and can be easily repurposed elsewhere if you revamp your garden layout. In this way, sandstone never has to end up in a landfill, contributing to a more sustainable and eco-friendly option for your outdoor space.
It's Non-slip
The naturally grainy texture of sandstone paving slabs provides excellent slip resistance, making them a popular choice for outdoor areas prone to getting wet. This feature is handy in areas with frequent rain and around swimming pools and other water features where safety is a top priority. With sandstone paving, you can enjoy your outdoor space without worrying about slipping and falling.
It's Low maintenance
Sandstone paving slabs are known for their easy maintenance. As time passes, they gently weather, adding to the natural beauty of the stone. If the slabs are in areas exposed to high traffic or weather elements, periodic sealing might be necessary to preserve them. This can be easily achieved with the right advice. Additionally, sandstone is a complex natural stone that can withstand jet-washing if needed. Overall, sandstone paving slabs require minimal effort to keep looking great for many years.
If you are looking to buy sandstone paving slabs, Universal Paving offers a wide range of high-quality options. Their sandstone paving slabs come in various colours and textures, from warm buff tones to cool greys. They source their sandstone directly from quarries in India and offer a range of finishes, from natural riven to honed and sandblasted. In addition, Universal Paving provides competitive pricing and excellent customer service, making them a great choice for your sandstone paving needs. Visit their website to view their full range of sandstone paving slabs and place an order.