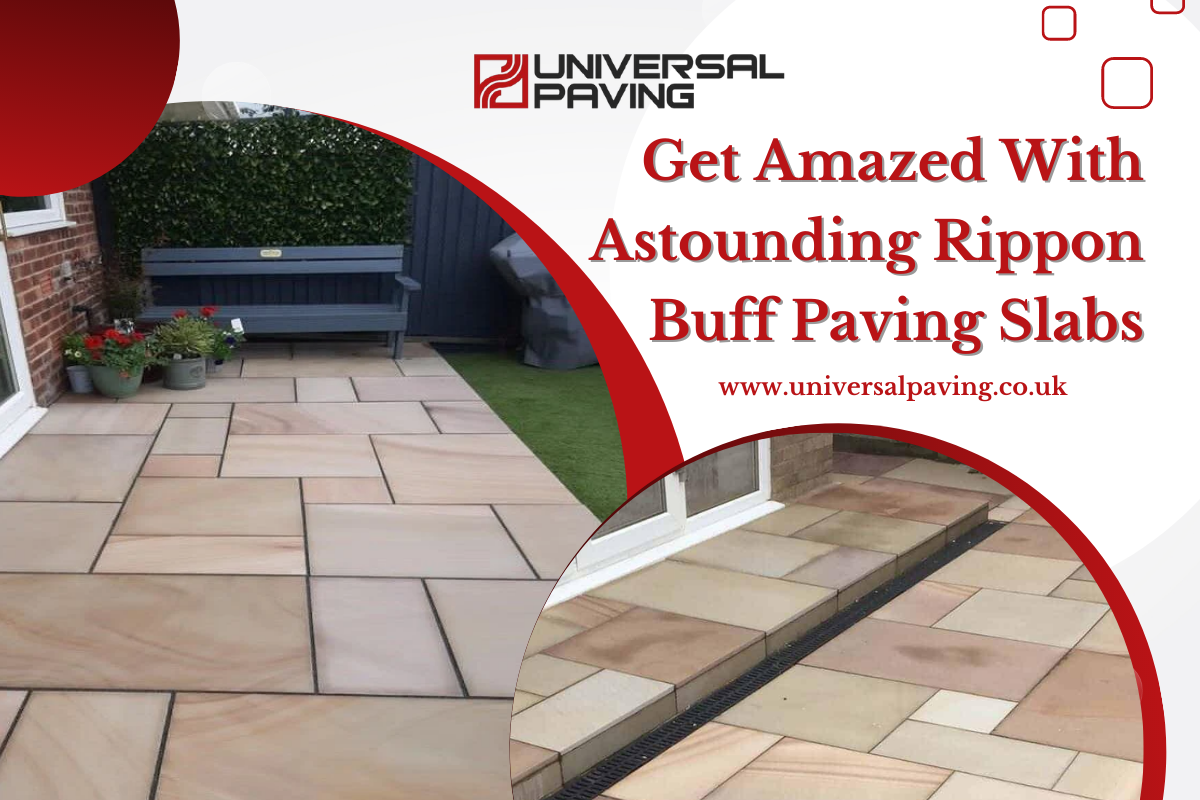 Get Amazed With Astounding Rippon Buff Paving Slabs
Paving slabs can cover both indoor and outdoor platforms. Composed of natural materials, Rippon buff sandstone paving slabs are preferable enough from a manufacturing point of view. Though the colors vary a lot, people find buff coloring more appealing for their place.
You will find different types of paving slabs at 'Universal Paving'. The concrete-based slabs can also be used in place of natural materials. Though each type of paving slab owns some uniqueness, the Rippon buff serves with an excellently finished appearance. The qualities of Rippon buff paving slabs are appealing enough to compel the walkers for at least one glance.
What is an Indian Sandstone Paving Slab?
India is known as one of the leading sandstone manufacturers. Worldwide engineers prefer Indian sandstone paving slabs for several (or maximum) projects. It has become a material of choice across the globe; even the UK and USA like developed countries look at this for their paving slabs.
The marketplace includes several colors and varieties of such slabs. Though many colors are available, buff color is unique and highly preferred by buyers. The durability and strength of these slabs are beyond question. The Rippon buff sandstone paving slabs are sturdy enough and simple to cut. You can wash them easily, which is essential too to keep the algae away.
Also, read: What Are The Features of Grey Indian Paving Slab?

Know the 'buff' and 'rippon'
The term Buff is a Latin word that typically indicates the color of buff leather. You can find the Rippon buff paving slabs with a mixture of white and yellow ochre. The buff-colored slabs look amazing for indoor and outdoor usage. It is a warm color that also referred to the 'naked' appearance. The attractive swirls and patterns add more charm to the slabs and thus the paving becomes more appealing.
The Rippon is a warm color sandstone that features a mixture of sandy brown shades along with pale crimson and lavender accents. These paving slabs have a riven surface that gives a good texture to the slabs along with the hand-fettled edges. If you want a real feature of their patio, it is a great choice for people.
The Characteristics of Rippon Buff Paving
Your place will look charming if you will choose Rippon Buff Paving slabs. You can find them at 'Universal Paving' in 600 series packs in 19 square meter coverage. Apart from this, you can get the exact size as well if particularly asked as per the requirements of the place.
Since it is nature's carving, you can always find variations in colors and patterns. You can never notice any ditto slab ever. Every slab includes unique combinations and that further give a distinct appearance to each tile (or slab). Additionally, nature is eternal and strong and that is why the Rippon buff slabs can change their colors over time. It is the impact of nature's changes and oxidation of minerals within the stone.
The efflorescence or staining may affect the tiles that further seek proper maintenance. After installing them at your place, you must take care of them well to keep them looking the best.
It is not only about buying these perfect slabs for your place, but you also need high-quality sealant for installing them well. The sealant must be effective and long-lasting to prevent damage in the pathway. The sealant must be suitable for natural stones.
Also, read: Why Should You Use Grey Indian Paving Slabs?
The Garden Landscaping
The Rippon buff sandstone is great for patio paving and garden landscaping. Your garden is a place where you feel relaxed. Most importantly, it is the place where you find yourself connected with nature.
Since the term buff is used to describe the varieties of hues and tones in the landscaping industry, you can choose your preferred shade as per your garden space. Your garden includes lots of greenery and a sort of meadow as well, where you can plan the landscaping from a golden hue to general yellowing colors. The darker caramel and light golden wheat colors are also other options. All these are, somehow, the variations of buff coloring that you can find at Universal Paving.
The combination of Rippon buff sandstone paving slabs is visually beautiful and functionally durable. Your garden will surely look amazing with its presence. Since your garden can be your home's entrance, it needs to be shining, appealing, and clean. These slabs well deserve to be there in your garden as you can easily keep them clean with a simple broom and mop.
Have It Without a Second Thought
Your place seems some perfect decisions to look nicer and Rippon buff paving slabs is one of those prominent decisions that can make your ambiance more satisfying. Visiting 'Universal Paving' will give you more and more ideas to achieve the best pathway. Nature has so much to adorn our lives, the store has just collected them to exhibit the combinations and options.
Also, read: Where to Get Grey Indian Paving Slabs?